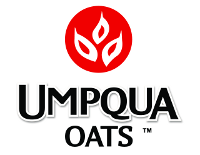 We have a delicious partner for breakfast in our Little Rhody Foods family. Umpqua Oats has become one of our signature items. Their unique oatmeal dishes are all-natural, nutritious and delicious!
Little Rhody Foods is proud to maintain a reputation of supporting small businesses.
Umpqua Oats is owned and run by two families, consisting of two couples, seven kids and eleven active lifestyles. We love and support their mission of providing a healthy breakfast to individuals and families on the go, without sacrificing flavor or nutrition.
Umpqua Oats uses only whole thick rolled oats for an "old fashioned" and hearty taste, full of thiamin, iron and fiber. They also use a unique ingredient called Sucanat Sugar, an all-natural whole cane sugar that adds caramel flavor to their oatmeal.
Kick start your day with Umpqua Oats. Available in several flavors, including Mostly Sunny, Old School, Not Guilty, R U Nutz and Kick Start.
Little Rhody Foods. Discover the local taste.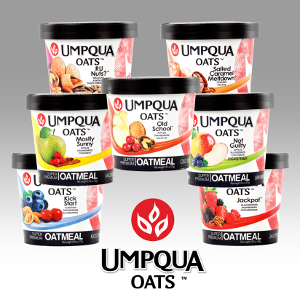 Visit Umpqua Oats online at UmpquaOats.com